BTL Emsella® in Spokane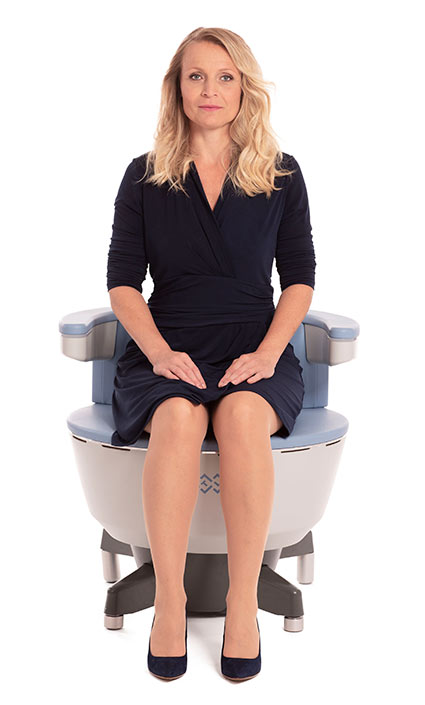 BTL Emsella® is an excellent option for women of any age seeking a non-invasive solution for urinary incontinence and improvement in their quality of life. Due to factors including the body's normal aging, childbirth or menopause, the pelvic floor muscles decondition and don't sufficiently support the pelvic organs. These factors contribute to urinary incontinence.
Are You a Candidate?
According to the National Association for Continence (NAFC), more than 200 million people worldwide are affected by incontinence. You may be one of them if you answer yes to any of the following:
Do you leak urine when you cough, sneeze or participate in sports activities?
Do you need to go to the bathroom often?
Do you experience sexual dysfunction or pain?
If you answered yes to any of these, you are likely suffering from urinary incontinence. The BTL Emsella® is the first device of its kind used in pelvic floor therapy. The device is FDA-cleared for addressing urinary incontinence and sexual dysfunction in women. Men experiencing impotence can also benefit from the therapy.
BTL Emsella® utilizes electromagnetic energy to trigger deep pelvic floor muscle stimulation without the need to get undressed. Just one BTL Emsella® session is like doing 11,000 perfect Kegel-like contractions, which help you train your muscles without any effort.
Before the treatment, pelvic floor muscles insufficiently support pelvic organs and affect bladder control. After six sessions, stimulation leads to regained control over the pelvic floor muscles and bladder. The device effectively rehabs the pelvic floor!
A non-invasive procedure with no recovery time needed
Remain completely clothed during treatment
Restores bladder and pelvic muscle control without laborious exercises
A comfortable procedure that allows you to relax during each 28-minute session
You may notice improvement after a single session
Results will typically continue to improve over the next few weeks, and after six sessions, scheduled twice a week, incontinence is usually corrected.
Frequently Asked Questions
Who is the therapy appropriate for?
BTL Emsella® is ideal for moms who have incontinence after having babies. We also see a lot of middle-aged women who get great results from the therapy.
Six sessions over three weeks correct most pelvic floor issues., but since everyone starts with different muscle strength and a wide range of symptom severity, some people may require additional sessions and maintenance.
No, it's painless. You simply sit on the device and let it do all the work!
Book a Consultation
Wondering if BTL Emsella® can benefit you? Contact us today to schedule a consultation!CONTACT US »

Pregnancy Chiropractor Spokane WA | (509) 464-0444